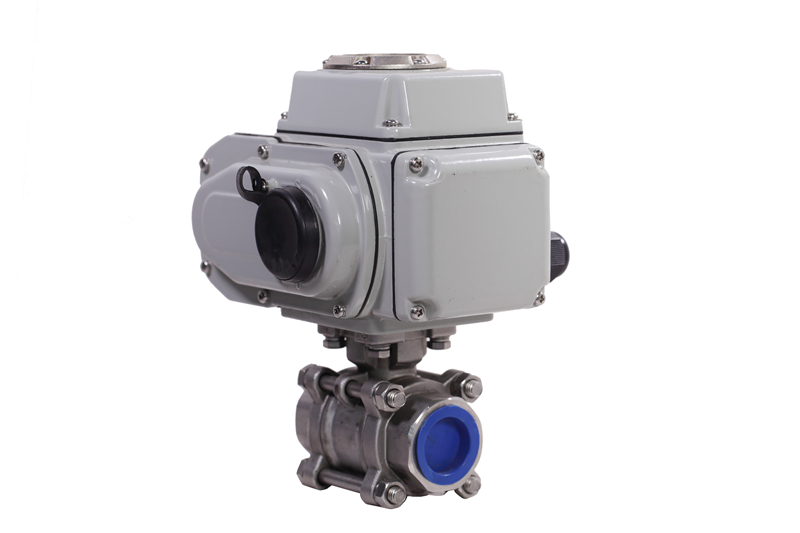 Product application:
VG12E5xx flange connection type electric regulating valve series, a total of DN65, DN80, DN100 three DIN standard flange dimensions, is designed to adjust to 18 ° C to 120 ° C hot water, chilled water, 50% of the ethylene glycol solution; Or 170 kpa, the saturated steam flow under 130 ° C, in order to adapt to the heating, ventilation and air conditioning (HVAC) system control load requirements.
Installation instructions:
For horizontal pipe, VG12E5 electric adjusting ball, used for frozen water or 50% of the ethylene glycol solution, the installation position should be parallel to or higher than the centerline of the pipe. Purpose is to prevent the body of the condensed water flowing to the electric actuator, or into the actuator, causes the damage of electrical components.
This series of two-way regulating valve, ball core with this company produces the Johnson Controls ® M9100 series electric actuator, the spring reset or M9200 series spring reset electric actuators. Electric actuator has switch type, floating point or proportional three kinds of control mode. Electric regulating ball valve body valve body and the corresponding electric actuator electric actuator electric actuator and its fittings fittings fittings to be assembled at the scene at the scene of assembled on-site for assembly.
Using VG12E5xx series electric control valve is used to control the steam or hot water flow rate, heat insulation bandaging treatment shall be conducted on the body, maximum limit within the body and its line of steam or hot water heating for electric actuators. The installation of the upper body should have enough space, in order to meet the electric actuator is installed into the bit and removed at the time of the request.
Before install fitting to the body, at the scene of the installation, should be living to carry hand tools, such as hand several times the valve rod rotation. So that we can release, because in the body for a long time storage, could form the valve stem and valve core of the rotational torque resistance.
Relevant M9100 and M9200 electric actuators for more and more detailed electric actuator is more and more detailed information, please refer to please refer to:
M9108 M9116, M9124, and M9132 spring reset electric actuators, installation manual (code LIT - 34-636-636) M9220 AGx - 3 floating-point type control, spring reset electric actuators, installation manual (code LIT - 34-636-636) M9220 Bxx - 3 switch control, spring reset electric actuators, installation manual (code LIT - 34-636-636) M9220 - GGx - 3 continuous control, spring reset electric actuators, installation manual (code LIT - 34-636-636) x M9000-51 series valve fittings, installation manual (code LIT - 14-1201-13) and M9108 M9116, M9124, and M9132 spring reset electric actuators, product manuals (code LIT - 2681058) M9220 - XXX - 3 spring reset electric actuators, installation manual (code LIT - 12011057)
Table 1: VG12E5xVG12E5x body with body with the body with M9124M9124M9124,, or with, or with M9220M9220M9220 dimension of dimension in the overall size. (in) (in) (mm))